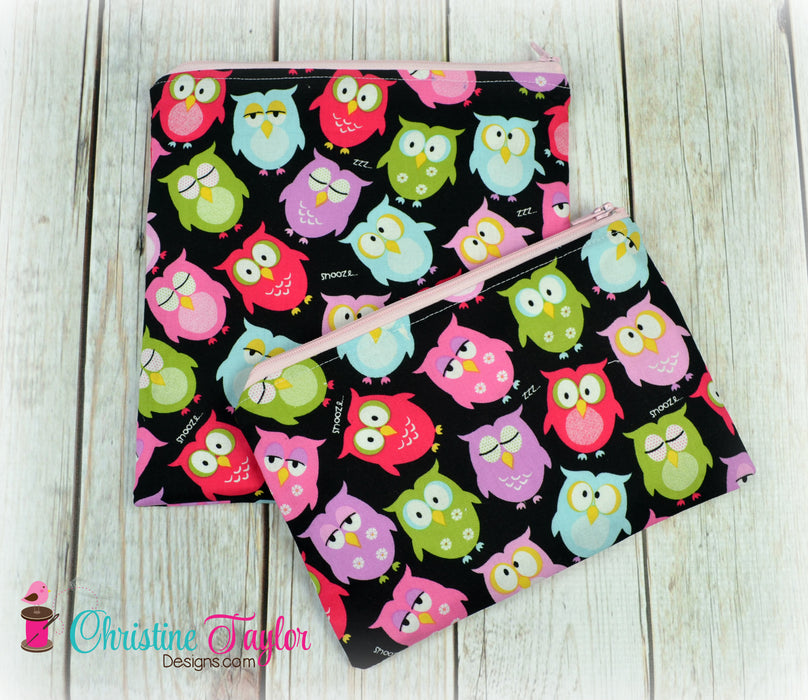 Ready Made SNACK SIZE SET - Owls
Our snack bags are made from scratch in small batches in our studio!  They are constructed with with fun cotton fabrics on the outside and a waterproof food safe Procare liner on the inside, we use top quality zippers as closures.  These snack bags are great for packing snacks like grapes, crackers, sandwiches etc.  They are eco-friendly, washable and easy to care for.
They are useful for many other needs as well.  They are great for travelling (bring your toiletries or makeup from place to place without worrying that they will leak inside your luggage), keep chargers and other electronics together inside these handy bags or use them for small toys. 
These bags are made to be washed as often as necessary.  Simply pull the liner inside out and pop them in the washer and dryer.  They can also be placed in the dishwasher on the top rack and hung to dry.  
Our SNACK SIZE bag set comes with a large bag that measures approx 8" by 8" and a smaller size bag that measures approx. 8" by 5".
These bags are READY MADE as seen in the photo attached to this listing and ready to ship asap.